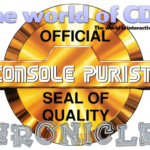 We all have our story about how we meet the CD-i for the 1st time, even if it was just a quick moment.
This is a very interesting topic to understand if you keep loving it, just tried it or hated it. No matter if you are a CD-i follower, the important is to know how you did get found it!
I have my own story, and this is what I am going to talk about, why I love the CD-i so much, why I can't stop talking about it, even if I don't play everyday.
It was back in 1995, in France, I was still living at Paris and I wanted badly a video game console, the SNES, all my friends had one at that time. "To much money!" they said, and trying to fool me, they told me about a CD player that could play movies and music… Believe me, my parents wasn't techno-logic people… not at all… They was just talking about a Laser Disc player (CD Video). I wasn't aware about any CD players, I only knew the SNES and Mega Drive at that time.
So I dig unto the CD player subject, entered into many 2nd hand games shops, and in September of the same year, one of them, in a showcase many CD's. One of them was about a Galaxy Express 999, I recognized the boy in the back cover.
I asked to try the game, and this when I said: "What? I am playing right now? This is the game?".
That is when the seller told me this was a game from the Philips CD-i, an Interactive system that could play many things.
I went home running like hell, told my mother I found what I was looking for (I am not talking about U2 song), I took some pocket money and came back to the shop! Do I need to tell you how fast I run? I even don't remember to see the buildings moving around me!
Next week I went again to the shop and this time bought
Kether
. All of them as 2nd hand titles.
My parents told me I will receive a CD-i player for Christmas, so I started to search for a good price, and this is when I found more than 1 model… I wasn't expecting that, and I even didn't understood why? If this is a gaming system, why don't just create an unique model, like Nintendo and Sega did for there consoles…? My mother hated the 450, to ugly for her, so I choose the 210.
I went myself to the store "Darty" to buy my CD-i player, I didn't wrapped, wast of time! And at Christmas, when I opened it, I discovered inside the box another CD-i title, for free,
Dictionnaire Hachette Multimedia – DV Version
, amazing! And a free demo disc! Cool!
I decided to try the games in the order I bought them, so I played and played, and played and played
Escape from Cybercity®
and
Kether
! I thought the
Digital Video Cartridge
(DVC) was going to increase quality to the games, so I went to Score Games this time, it was like Cash Converters but only for gaming, I bought a DVC and Queen – Greatest Flix I & II, but no improvement for the games… I was a little disappointed, but just for a few minutes, because when I tried the Video-CD of Queen… Oh My!
I am a fan of Alphaville music, you can take a look by the way at
www.alphaville.info
, and in one of my buy, I found at Virgin Mega Store this album:
Alphaville – The Breathtaking Blue
, and, this is when looking closer to it, discovered it was a CD Graphics album (CD+G)!!! WAIT… the CD-i did play this kind of discs… Another hell running back home! The store was a little far from home, so I went by subway (metro) and once at home, I tried it and discovered pictures on the screen from my favorite band! Just imagine, my favorite system did also love my favorite music!
Many years passed, I tried so many titles, some of them was exchanged by other as 2nd hand, directly on stores. But like many of you too, I was the only one that had CD-i player. My friends was always at home playing with me (one player only) playing games like
CD Shoot
,
Mad Dog McCree™
,
Tetsuo Gaiden
, etc… but they never bought one, and the price was a real reason.
I do have a good collection today, but for sure definitely not all. I still find unknown titles from other countries day after day, and I am not talking about unreleased, just released ones. After I left France to Portugal in 1999, I decided to create a website to share my passion with people that also might think they was alone into the system. Using all I had keep since the beginning, I launched Le Monde du CD-i, who changed the name to The World of CD-i as you know today, and since then, here we are, many years later, still talking about CD-i together
I hope the faith in this system never disappear from the heart of people, a true lover will never want to get success with CD-i, trying reach the #1 place on internet. The love for this system lives into sharing each other what we know, and not share to the others our how good we are into the CD-i knowledge.
Without all of us, and when I say all of us I mean ALL of us, no new discovers are possible, no details can't be found. Even the little beginner who bought a CD-i yesterday can get into the package an extra rare prototype of a CD-i title and share with us, the Interactive Community.
I hope my story encourage you to tell your story! I am interested, we are all interested into discover it!
Contact: omegalfa@theworldofcdi.com
Twitter: @omegalfapt
Written by omegalfa, © 01/05/2020