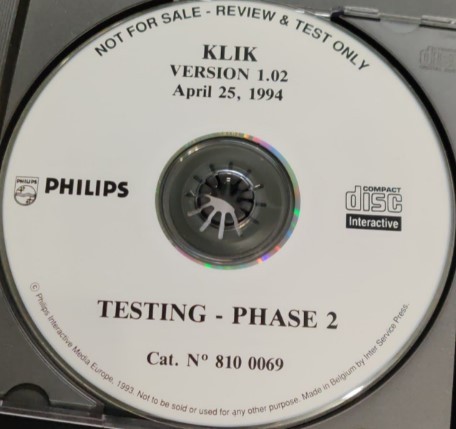 Thanks to Mike Stancliffe who shared the disc picture at Philips / Magnavox CD-i Collectors Club Facebbok Group, we can now enjoy screenshots of KLIK.
This is an educational title that will help your kids to learn words from different countries with the help of images and animations. Using pictures form the Canadian Éditions Rényi who made several dictionaries full of pictures for children, and published by the Italian Sidac S.p.A, you are able to choose between several languages as:
English (US), English (UK), French, Italian, German, Spanish (European) and Spanish (Latino-american).
This unreleased title from 1992 got his last version with the Testing Phase 2 at 1.02 on April 25 1994. With those 2 dates, we can see how long it took to reach this title build version.
Alan_CDiZone, our titles informer also do have this one, so we will get some more screenshots to add in the future.