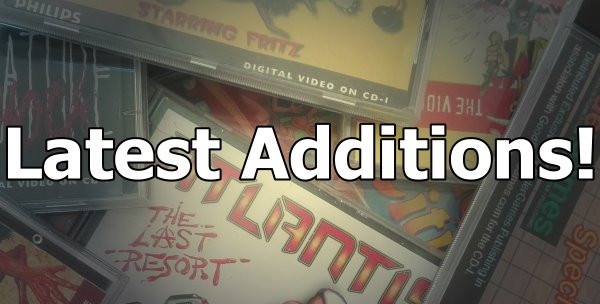 The World of CD-i website is in constant updates.
We are always adding information like new titles, covers, screenshots, videos, etc…
Our website members are a great value for us, this is why we encourage you to register, this way you'll be able to add yourself new stuff. We always add credits to our contributors!
NEW ENTRIES:
Multimedia
Gnomes
CD-i Music
Ennio Morricone – Vidi Aquam
Peter Gabriel – Xplora 1
Video-CD Movie
Top Gun
Video-CD Music
Aïda
Digital Video on CD-i Movie
Daens
Fatal Attraction
Patriot Games
Star Trek VI
The Naked Gun 2 1/2
Top Gun (DV on CD-i)
Wayne's World
Digital Video on CD-i Music
The Cream of Eric Clapton
CD-i Demos
Time Life Photography
Karaoke
Fado (Credits Alan_CDiZone: covers)
UPDATES:
Games
Battleship® (Italian catalogue number & EAN)
Caesars® World of Gambling (USA catalogue number & EAN)
Connect Four (USA catalogue number & EAN)
Earth Command (Spanish catalogue number & EAN)
International Tennis Open – 2 players version (Spanish catalogue number & EAN)
Litil Divil™ (Italian catalogue number & EAN)
Mad Dog 2™ (Spanish catalogue number & EAN)
Rise™ of the Robots (Belgian catalogue number & EAN)

Kids
Cartoon Jukebox (Spanish catalogue number & EAN)
Paint School 1 (Spanish catalogue number & EAN)
Paint School 2 (Spanishcatalogue number & EAN)
Stickybear® – Reading (Spanish catalogue number & EAN)
Story Machine – Star Dreams (Italian catalogue number & EAN)
Tom – Magic Picture Show (French & Italian catalogue numbers & EANs)

Multimedia
Chew The Right Thing (Credits Alan_CDiZone: covers)
Harvest of the Sun – Van Gogh (French catalogue number & EAN)
Iberoamerica – Descubra un Continente (Credits Alan_CDiZone: covers)
Journeys Through Victorian London (Credits Alan_CDiZone: covers)
Lenting Van Etten (Credits Alan_CDiZone: covers)
Let's go skiing with Alberto Tomba (Credits Alan_CDiZone: covers)
Mexico – Paraíso Del Buceo (Credits Alan_CDiZone: covers)
Sail to Win! (Credits Alan_CDiZone: covers)
Swiss Click (Credits Alan_CDiZone: covers)
The Food of France (European catalogue Number & EAN)
Treasures of the Smithsonian (USA catalogue number & EAN)
UEFA® Champions League (Belgian catalogue number & EAN)
CD-i Music
Classical Jukebox (Italian catalogue number & EAN)
Video-CD Movie
Addams Family Values (Dutch catalogue number & EAN)