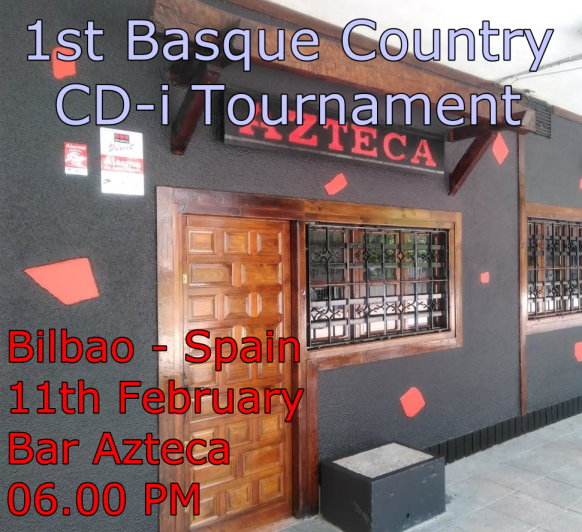 A few weeks ago I have been contacted by Egoitz Gonzalez, a Spanish CD-i enthusiast.
He is from Bilbao city, in the Basque Country (north Est of Spain) and got this crazy idea to make a tournament of CD-i games.
He and some friends have decided to buy a CD-i player with some titles just to organize this event. Wonderful!
So, if you are from Spain and want to participate in the 1st Basque CD-i Country Tournament, don't miss it!
Saturday, 11th of February 2023 at Bilbao (Spain) will take place at "Bar Azteka" (Calle Fika 50), 06.00PM
4 CD-i games will be rolling:
– Ms Pac-Man (Arcade Classics)
– Video Speedway
– Mystic Midway
– Escape from CyberCity
This is a very good initiative and hope we can see more of this in the future all around the World! Congratulations!
We can't wait to see pictures!
This is an awesome idea, I have discussed the subject for several days with Egoitz and another idea came to my mind…
At The World of CD-i, we will create a High Score section, based on this tournament idea.
"Can you explain it better, Omegalfa?"
That is a good question folks, of course I can 😉
Each month, a CD-i game will be chosen, during limited days you will play it and try to reach your highest score, then you just need to send a picture of the High Score screen from your TV.
We will publish a list with the TOP 5 Hall of Fame of this specific game with your username and country.
Points will be attributed and a ranking will be created. A list of the TOP 5 usernames and countries will be set for each year.
Simple right?
Get ready… it's coming…