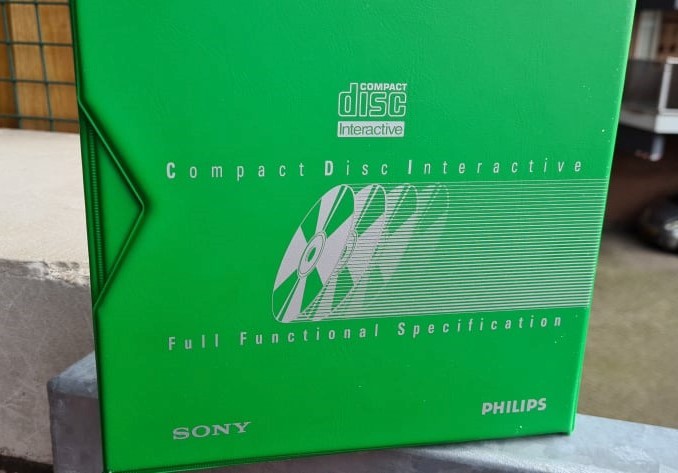 I like to share my CD-i experience with people. Talking with my friends, people registered on this site, Facebook group or Twitter.
RetroMan is a person who do have an impressive collection of titles, hardware and accessories. But what I really love about him, is the fact he shares with me in a very natural way what he owns, just like if we was neighbours. I can see it is something he really enjoy to do: Discover CD-i stuff and share it with us, and I can't thank him enough for that.
A few weeks ago, he was excited about a deal he was about to conclude… and what a deal…
He got the Green Book. Maybe for some of you it is nothing special, a green book is a green book, we can find so many coloured books in any stores… right…? NO!
I am talking about THE GREEN BOOK, the CD-i Holy-Grail, with all the specifications you need to create a CD-i related work.
When Philips and Sony defined the Audio CD specifications, they gave to it a name, the Red Book, in June 1980. This was the 1st colour from a long collection…
In fact, more books followed as Yellow Book (CD-ROM), Green Book (CD-i), Orange Book (CD-R and CD-RW), Beige Book (Photo CD), White Book (Video-CD), Blue Book (Enhanced-CD), Scarlet Book (Super Audio CD) and Purple Book (Double Density CD).
Any company interested in developing CD-i titles or release his own branded CD-i player had to get a paid licence from Philips to get the CD-i Full Functional Specification (Green Book).
The CD-i player is able to read the following Specification:

Red Book
Audio CD, CD-Text, CD-MIDI, CD+Graphics
Green Book
CD-i titles, Digital Video on CD-i (Movies & Music Videos)
Beige Book
Photo-CD
White Book
Video-CD (Movies & Music Videos), CD-i Bridge

That is why we call the CD-i player, a Multimedia player.
Coming back to RetroMan item, what can he do with this Green Book if he is not a programmer? And we can't forget Philips did turned the Green Book accessible to anyone recently.
Well, that is simple, just like many of us, he is a collector, and every time something shines with a CD-i stamped on it, we try to get it.
The case sizes are 25.7cm x 8.8cm x 21.2 cm.
Now, there are more versions out there to collect…
– 1st version
November 1989
– 2nd version
September 1990
– 3rd version
March 1993
– Final version
May 1994
cdifan, our CD-i Titles Development responsible owns an Electronic Green Book.
So, before Editorial Green Book became available, Electronic Green Books was used.
You can access the specification through Read Only files.

On the Change Log from this Electronic Version, we can read:
In that CHANGE_LISTS directory are revision documents for "Revision 3" from July (no year is stated), "revision 3.3" and "revision 4" (no months or years stated), and a final document that states:

This list has been compiled of corrections, additions, clarifications and editorial amendments since the introduction of Revision 4 (dated 14 November 1988).
The CD-i Full Functional Specification (Green Book) will achieve here with the status which will be further referred to as release 1.0.
This list is dated and complete up to 15 October 1989.
Congratulations RetroMan you've got the latest version!
This version seems be in a plastic finish style. The older ones are made in Paper Box.
I am sure you will find more CD-i related things for your collection!