Chronicle #17 - Secret Mission Review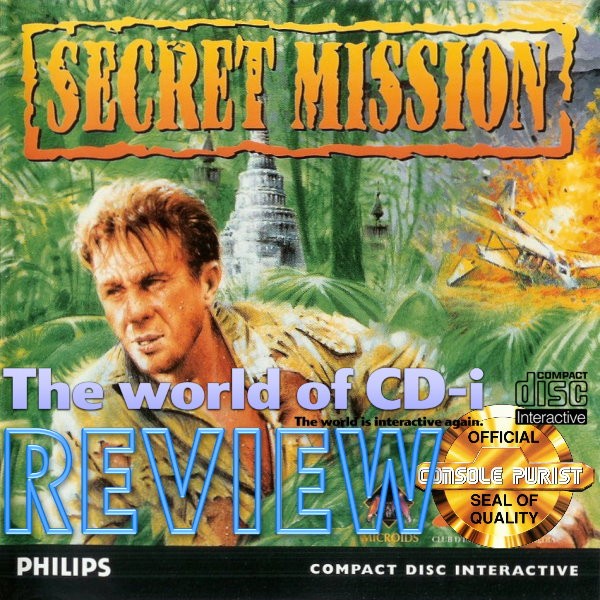 The World of CD-i Chronicle #17
I remember when I was walking around on some games shops, Secret Mission was on of those I always wanted to get. The cover made me dream of adventure and spy action, and in fact this is what the player will feel!
The front cover isn't exactly what you will get, you just need to look at the back of the cover to find the differences.
SOME HISTORY:
Secret Mission as been produced by Microïdes in 1995 (French version) and 1996 (English version), the French company that almost made a 4 games on CD-i but finishes to release only 1 for CD-i. I am talking about Evidence, Ford Boyard - Le Défi and Ford Boyard - La Legende.
THE GAME:
You are Jeff, a spy that is attacked at your arrival in Opalia in the 1952. Suffering of amnesia you will avoid a Coups d'Etat, you will have to define if you work for the US government, Russian government, or both. Use the objects you will find, listen to the people who will interact with you (and who will influence your decisions). Decide the questions you want to ask and the answers you want to give.
This game will brings you a lot of action and the evolution of the history will surprise you positively!
The main view is as 3/4, or if you prefer, an oblique view. You will be able to interact with people and objects using the tools that appears on the up right side of the screen by pressing button 2.
Speak to someone, Look at something, Open doors or objects, Take something, Give something, Combine something, Use something and Save/Load a game.
Press button 1 to confirm your choice.
Button 1+2 isn't used in this game.
Move around all places and find something to add on your inventory that may be helpful later.
Many video animations will be shown when your character is traveling form a place to another, this is due for 2 reasons. The 1st is for the beauty and polish the game. The 2nd reason is to fill a loading time from the disc with a short video sequence instead of getting a black screen for several seconds.
The game is beautifully designed, great scenarios full of colors. The music isn't annoying at all, it merge you into the place and make you feel you are really there. The sound effects are also really great. Listen to the birds flying other you want you are outside, cars passing by, etc...
You will also have to solve some puzzles to get new clues, open safes, boxes and doors...
You will also play as a top view some and side view sometimes.
Swim on an underwater temple, find your way on a labyrinth, walk in the jungle...
This is a 1 player only and no need to use a Digital Video Cartridge (DVC).
This is a Must Have in your collection! A great game to play and replay many times!
Remember, your choices will influence the history, and your final choice will decide the whole game!
Other information:
– 1 player only.
– No Digital Video Cartridge required.
– Gamepad recommended.
CD-i Emulator Compatibility:
Not tested yet...
Good Points:
– The graphics are great.
– A pleasant music along the game.
– Easy inventory system menu.
– Great history & scenarios.
Bad Points:
– Some difficulties to move the character to make his way.
EVALUATION:
Graphics 9/10
Music 8/10
Gameplay 8/10
TOTAL 8,3/10
Find all the Chronicles at http://www.theworldofcdi.com
Contact: omegalfa@theworldofcdi.com
Twitter: @omegalfapt
Facebook: Support Group
Written by omegalfa, © 29/05/2020
Click for thumbs down.
0
Click for thumbs up.
0
Omegalfa The World of CD-i Team