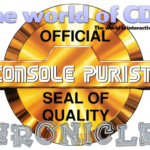 The World fo CD-i Chronicle #1
Hello everyone!
I am Luís Mota, a.k.a. Omegalfa, frontman of "The World of CD-i" (www.theworldofcdi.com), a dedicated website to the Philips interactive system.
I have accepted Stacy's invitation to write chronicles and talk weekly about the Compact Disc Interactive (CD-i), a so underrated and unloved system from many people.
This incredible Facebook Group is the perfect place to let all of you learn or get a higher knowledge about this system that I always use to call as revolutionary and way ahead of its time. No matter if you love it or not, just read, open your mind, learn and think for yourself, not only from some funny YouTube videos. 😉
This 1st article will mainly help you to choose the best CD-i player to buy.
What? You don't know what I mean by which one to choose? All right, let's start with some very quick history, I will not tell you the story about Sony and Nintendo deal to make the SNES CD, you all know that… and if you don't, I will explain it in a next article.
I am going to talk about the Philips CD-i players timeline!
In fact, Philips did what today Sony and Microsoft make with there PlayStations and Xbox, but way long ago… Philips made different versions of players, with visual differences to let consumers choose the one they prefer to combine with the other electronic equipment at home, and they made many of them… until the end of life of the system.
WHY SHOULD I NEED A CD-i PLAYER?:
I call it a player and not a console, why? Because it is not a console but a Multimedia player.
With it you will be able to watch many discs formats like:
– CD-i (Games, Edutainment for kids, Reference titles)
– CDDA (Audio CD)
– CD+G (CD Graphics with or without audio)
– CD+G Karaoke
– Photo-CD
– CD-i Ready (CD-i discs that will play audio on any audio CD player)
– CD-i Bridge (Format that also works on Windows 95/98)
– CD-BG (Background Audio CD)
– CDDA Text
– CDDA MIDI
– Video-CD (Movies and Music videos in MPEG-1 format)
THE TIMELINE CONSUMER MODELS:
In 1991, year of the USA system's launch, Philips released the model 910.
In 1992, year of the European system's launch, they released the twin brother, model 205.
Then followed by models 210 and 220. Most of the 220 players have a "Match Line" stamped in the front right side, this was due to the Philips Match Line televisions series at that time, for a "great" compatibility signature. It is also possible to find some 210 with this reference.
All of those players had a 8Kb NVRAM memory, this is the famous Timekeeper that you have for sure heard about on the web because of the lithium battery. This Timekeeper will save the Date & Time, as well as the Saved Games files. A 1x CD drive speed, a 1Mb of memory, a Motorola 68070 and running in a RTOS system.
They was ready to get upgraded with a Digital Video Cartridge (DVC), coming in the following years.
This DVC will increase the memory with 1 extra Mb (so 2Mb in total when plugged) and allowed the player to run Full Motion videos.
In 1994, with Sony PlayStation entering the market, new models came out with some "young" and "cool" looking.
This is when models 450, 470 and 490 appears.
Those models came with a brand new DVC model, a smaller one. Also the Shell was updated for a more good looking main screen, and some of them with a higher NVRAM capacity of 32Kb.
The 400 series are called as low-cost players, as they are mostly made with plastic parts and have less components inside. Also the 450 have an external power supply.
Model 550 also exist, it was a 450, but sold with a DVC included in the package.
With the launch of the 2nd Shell (and last) version, Philips released more 210 and 220 with it, and also ready to be equipped with the new DVC model. That is why you will find a sticker saying "NEW PHILIPS CD-i" in the front side of the player.
Some extravagant models appeared like the FW380i, that was a beautiful Hi-Fi system with an integrated DVC, you just needed to connect it directly to the TV and was able to play CD-i titles. Another different model was the 21TCDi30, a 21 inch television also equipped with a DVC.
Near the end of the CD-i commercial life, a last commercial model appeared, and maybe the most beautiful and powerful of all, the 740.
More players models were released during this timeline, but we are talking about professional ones, like the authoring 180 series, the amazing portables 300 series and the presentation and/or authoring 600 series.
WHICH ONE DO I CHOOSE:
Now that you know most part of the players, it is going to be easier to choose the one that is more indicated to you!
It is also important to know that ALL players have two extra digits at the end of the model number, for example, 205/05, 210/20, 220/40, 220/80, etc… those numbers will indicate regional releases (countries) and extra connections on it like RGB, Scart, S-Video, 5V out, etc…
1) – Choose a player that you can connect in your country (220V or 110V).
Also some plugs also may need an adapter.
2) – Choose the look you prefer.
3) – Choose the Shell version you want (old styled or new styled main screen).
4) – Choose the NVRAM memory capacity (old styled only have 8Kb models).
If you will play 2 players games, you will need 2 controllers (wired ones) to connect to the player. To use them you will also need a Splitter, this accessory will split in two the Input 1 port (in the front).
Why I am talking about that? Because some early players do not need this splitter!
Almost all models of them have Input 1 in the front side and Input 2 in the back side, but only Input 1 will accept controllers devices. Input 2 is used for Internet connection, Tele CD-i, and other options (I will talk about all of them in another article).
The exception models are 910/00, 205/00, 205/05, 210/00, 210/20, 220/00, 220/20, 220/40 and 21TCDi30.
5) – Choose if you want to use a splitter or not for 2 players games.
6) – Find a CD-i player with a DVC included.
A Digital Video Cartridge are expensive when sold separately
7) – Find a CD-i player with at least 1 controller.
Just like the DVC, a controller is very expensive when sold separately.
CONTROLLERS:
Several controllers are available for the system.
Just like my little girl, your kids will love for sure playing games, drawing, painting, clicking titles using a special Roller Controller designed for them. And you can use a Gamepad, a Touchpad, a mouse or even a Gun (Peacekeeper).
AVOID/SOLVE PROBLEMS:
1) – Ask the seller for proof of reading discs (like a picture of a game on screen).
Some players after a long time not turned on, stops spinning discs. I will explain letter how to solve this problem.
2) – Some trays may make some noise when opening.
Just put some industrial fat or electronic spray to solve this problem.
3) – Some trays may need your help to open and/or close.
A new belt may be needed, it is easy to change.
4) – The Timekeeper may be dead.
As the lithium battery only lives 10 or 13 years, only people with basic soldering and electronic skills should try to change it to avoid any extra damage to the player. If yours comes with a dead Timekeeper, no worries, it's normal, find someone who can make this job for you. You also will find some Do It Yourself (DIY) videos and guides over the internet.
I really hope this article will help you to choose your first of many other CD-i players that will follow.
Enjoy this beautiful system, and see you next week!
At The World of CD-i, we do repair CD-i players and accessories, contact visit our forum to see the possibilities.
Find all the Chronicles at www.theworldofcdi.com
Contact: omegalfa@theworldofcdi.com
Twitter: @omegalfapt
Written by omegalfa, © 07/02/2020