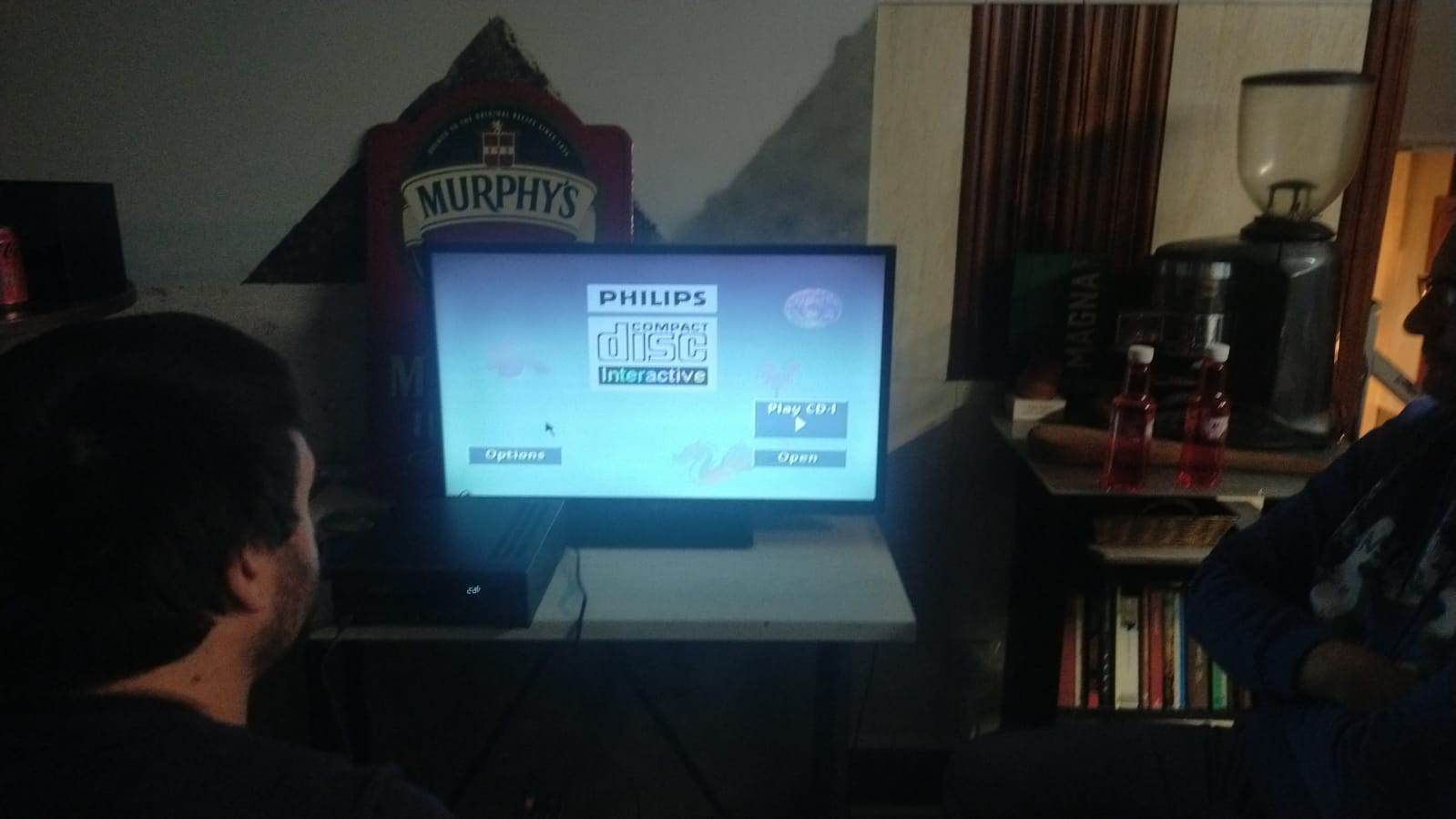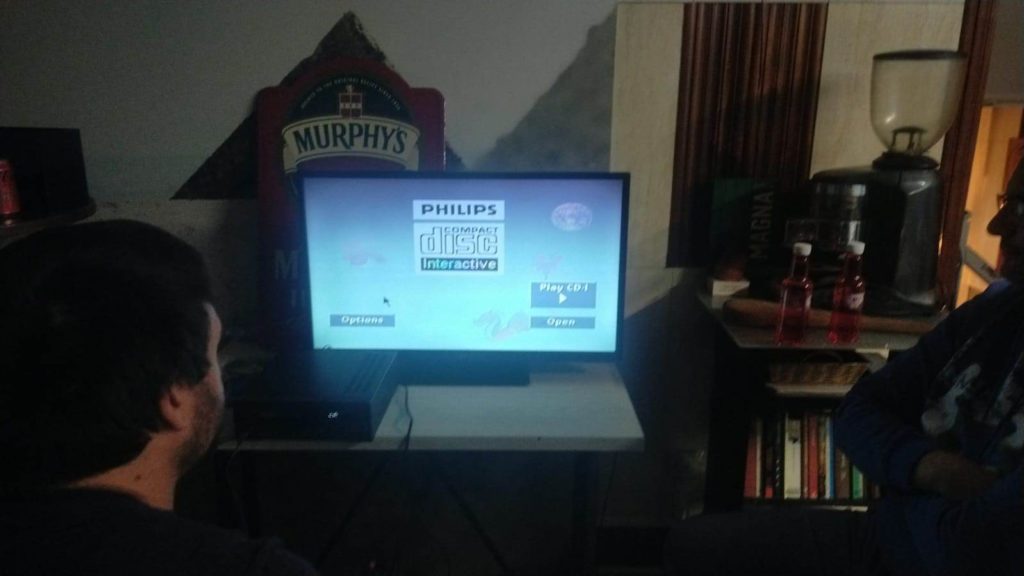 1st Basque Country CD-i Philips Tournament 2023
(All text by Egoitz Campo)
Last Saturday, 11th of February, Euskal Retro Association organized the 1st Basque Country CD-i Philips Tournament. After buying the console more than a month ago, we thought of organizing a tournament so that there would be an extra incentive to play this console. In addition, the people of The World CD-i told us that they could publish the news on their official website and even create a High Score with our results and with those of other CD-i fans around the world. That definitely motivated us a lot.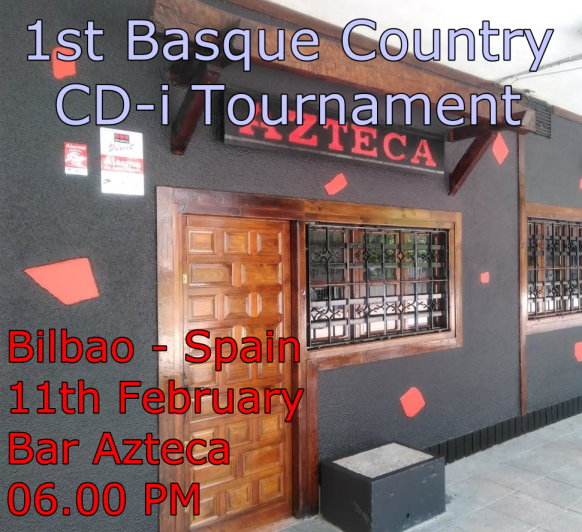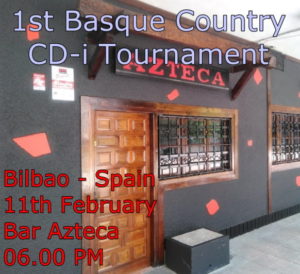 We met at 4:30 p.m. at Bar Jofer in Santutxu (Bilbao – Basque Country). Initially, the idea was to meet at the Bar Azteka, but we had to change places because the owner closed the bar that afternoon. First we played another great console, Atari 2600 and then at 18:00 we played the Philips CD-i, a very interesting interactive console. We played four games: Ms Pac-Man (Arcade Classics), Escape from CyberCity, Video Speedway, and Mystic Midway. 8 players in total.
The afternoon was entertaining and people liked the console. For example, it was very difficult for them to play Escape from Cybercity, and for good reason because it is an extremely difficult and fast game. If you don't have great reflexes, you're dead right away. Instead, they all enjoyed as children playing Ms Pac-Man (a classic arcade game), Speedway (the best car game from Philips, interesting driving game) and Mystic Midway (great game of shooting skulls and other kind of things that are very scary).
We played Ms Pac-Man in hard mode until they ate us for the first time. In Speedway; we played the training and the race of Verona, and we wrote down the time that each player needed to take the first lap of the race. In Escape from Cybercity we played in rookie mode, and we recorded the points that each player got before they were killed; and in Mystic Midway the final score that each player got in a single attempt.
The tournament was won by Egoitz, although we must remember that the previous week he was practicing at home to be able to win this first Basque Championship. Our intention is to continue organizing tournaments, the Basque Country Tournament twice a year and also that our basque friends and players can participate in the rankings (also our friend Alex, the Nicaraguan, of course). In August, we will do the second tournament.
Here we leave you the results (In parentheses the points obtained):
Ms Pac-Man
1- Jesus Carballeira 6 points (9.160)
2- Samuel Otero 5 points (6.580)
3- Gorka Pérez 4 points (3.950)
4- Egoitz Campo 3 points (2.450)
5- Lander Campo 2 points (2.420)
6- Daniel Barrientos 1 point (1.060)
Escape from the Cybercity
1- Egoitz Campo 6 points (28.800)
2- Jesus Carballeira 5 points (10.500)
3- Daniel Barrientos 4 points (10.500)
4- Samuel Otero 3 points (6.000)
5- Lander Campo 2 points (3.000)
6- Gorka Pérez 1 point (3.000)
Speedway
1- Egoitz Campo 5 points (1'24''20)
2- Gorka Pérez 4 points (1'24''50)
3- Samuel Sánchez 3 points (1'28)
4- Danuel Barrientos 2 points (1'30)
5- Jesus Carballeira 1 point (1'31)
Mystic Midway
1- Alex Martínez 6 points (3.045)
2- Egoitz Campo 5 points (2.705)
3- Samuel Otero 4 points (1.700)
4- Jesus Carballeira 3 points (1.690)
5- Jon Ander Gíl 2 points (350)
6- Daniel Barrientos 1 point (140)
 Classification of the 1st Basque Country CD-i Philips Tournament 2023
1- Egoitz Campo 19 points (Basque Country)
2- Jesus Carballeira 15 points (Basque Country)
3- Samuel Otero 15 points (Basque Country)
4- Daniel Barrientos 8 points (Basque Country)
5- Alex Martínez 6 points (Nicaragua)
6- Gorka Pérez 5 points (Basque Country)
7- Lander Campo 4 points (Basque Country)
8- Jon Ander Gíl 2 points (Basque Country)
Congratulations for this initiative!
We hope it can push other people from around the world to do the same!
omegalfa