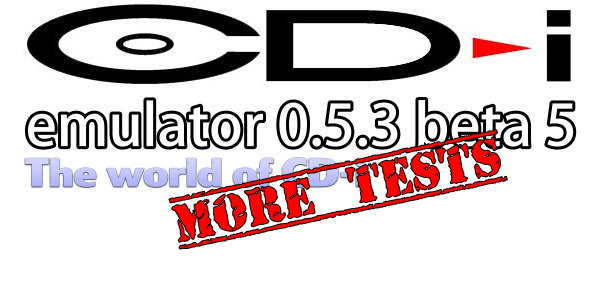 The World of CD-i is the official tester of the CD-i Emulator.
We have access to the upcoming 0.5.3 beta 5 version. During our tests we are talking "in-loco" with CD-i Fan (emulator creator) to fix right away any easy bugs to improve compatibilities. Most of the FMV games are now working without any issues.
BurnCycle, our CD-i Emulator tester has completed another raw of tests. For anything concerning tests, contact him at burncycle@theworldofcdi.com.
To contact CD-i Fan (cdifan) about his emulator, contact him at cdifan@theworldofcdi.com.
More are coming…
| | |
| --- | --- |
| 3rd Degree | v0.5.3b5: Working – No issues (Limited play) |
| Alien Gate | v0.5.3b5: Working – Small sound issue at the game menu |
| Cluedo® (USA version) | v0.5.3b5: Partially Working – hangs during (random?) room events |
| Crime Patrol | v0.5.3b5: Working – No issues (Limited play) |
| Dimo's Quest | v0.5.3b5: Working – No Issues (Limited play) |
| Kingdom™ – The Far Reaches | v0.5.3b5: Partially Working – Black videos and black background during the game |
| Kingdom™ 2 – Shadoan | v0.5.3b5: Partially Working – Black videos and black background during the game |
| L'Affaire Morlov | v0.5.3b5: Working – No issues (Limited play) |
| L'Ange et le Démon | v0.5.3b5: Not Working – Hangs at start |
| Labyrinth of Crete™ | v0.5.3b5: Working – No Issues (Limited play) |
| Lemmings | v0.5.3b5: Working – No Issues (Limited play) |
| Lingo | v0.5.3b5: Working ? Not sure if some black backgrounds are supposed to be like that. In NL so hard to understand what's said/written |
| Link™ – The Faces of Evil | v0.5.3b5: Working – Some slowdowns on videos, otherwise working fine |
| Litil Divil™ | v0.5.3b5: Working – No Issues (Limited play) |
| Lords of the Rising Sun | v0.5.3b5: Working – No Issues (Limited play) |
| Lost Eden | v0.5.3b5: Partially Working – Constant Slowdowns make game hard to play |
| Lucky Luke | v0.5.3b5: Not Working – Game crashes to start bios screen after a few seconds of the first level |
| Mad Dog McCree™ | v0.5.3b5: Working – No Issues (Limited play) |
| Mad Dog 2™ | v0.5.3b5: Working – No Issues (Limited play) |
| Magic Eraser | v0.5.3b5: Working – No Issues (Limited play) |
| Making the Grade | v0.5.3b5: Not Working – Game crashes to start bios screen after a few clicks |
| Marco Polo | 0.5.3b5: Partially Working – Blackscreens/black backgrounds and running at very low speed |
| Master Labyrinth | v0.5.3b5: Not Working – Hangs after hit play |
| Mega Maze | v0.5.3b5: Not Working – Hangs after choosing the option to play the game |
| Merlin's Apprentice | v0.5.3b5: Working – Sound starts lagging after a while |
| Micro Machines | v0.5.3b5: Working – No Issues (Limited play) |
| Mind Quest (unreleased) | v0.5.3b5: Working – Sound starts lagging after a while |
| Mutant Rampage – Bodyslam™ | v0.5.3b5: Working – No issues (Limited play) |
| Myst | v0.5.3b5: Partially Working – Black videos and black background during the game |
| Mystic Midway – Phantom Express | v0.5.3b5: Working – No Issues (Limited play) |
| Mystic Midway – Rest in Pieces | v0.5.3b5: Working – No Issues (Limited play) |
| NFL – Football Trivia Challenge | v0.5.3b5: Working – No Issues (Limited play) |
| NFL – Football Trivia Challenge 94/95 | v0.5.3b5: Working – No Issues (Limited play) |
| NFL – Hall of Fame Football | v0.5.3b5: Not Working – Hangs after a few game choices / Some Black videos at the start |
| The 7th Guest | v0.5.3b5: Working – Small glitches at the start |
| The Last Bounty Hunter | v0.5.3b5: Working – very minor slowdowns |
| The Lost Ride | v0.5.3b5: Not Working – Black screens at the beggining. The game crashes the emulator at random points |