Chronicle #31: Marlboro - Follow Your Dreams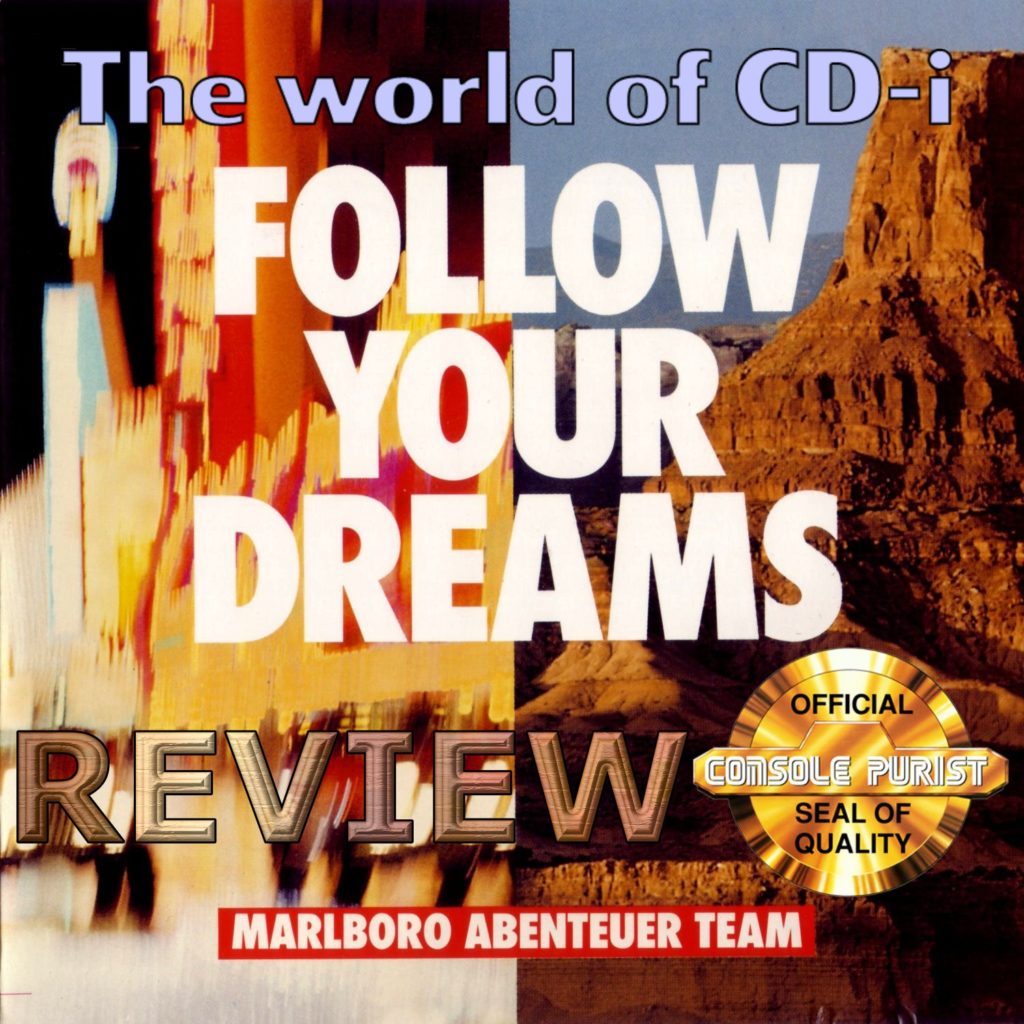 Chronicle #31 - Marlboro - Follow Your Dreams
Here is something we really don't use to see a lot, Marlboro - Follow Your Dreams.
This is a free promotional disc from Philip Morris, the owner of Marlboro brand.
The objective was to promote the Marlboro Adventure Team that used in the 90's to make sports adventures events all around the world. Motorbike, jeep and rafting was the main sports all combined into an unique competition where the American cowboy lifestyle was also very improved. During 10 days teams from all around the world raced to be the best.
This promotional disc is a German release from Philip Morris GmbH back in 1993, one year after the official 1st Marlboro event.
This is a CD-i Ready disc, that means it will work in a CD-i player and an Audio CD player (music only).
Here are the music just for you! Keep listening the music while reading the review. 😉
Remember, you can download the MP3 music by clicking on the right mouse's button and choosing "Save as...".
Regarding the CD-i part, the most important for us, there is a little game on it, and this is what I am going to talk about!
Marlboro - Follow Your Dreams - The Game Review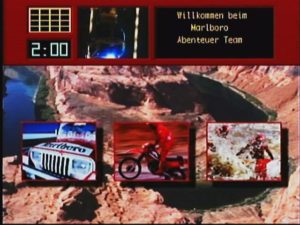 The disc start directly to this view, no intro and also no music.
Only a motor noise in background. At first time I thought it was a disc problem but I am using the original sent by mail by Blurb69 just to make this review. We don't play with reviews, we take them very seriously! 😉
Remember, this is a German title, I will try my best!
At the top left you can see a table with 4x4 squares and a timer indicating 2 minutes. Next to it there is a little video screen where parts of the Marlboro movie is continuously playing. The last item is a window is all in German, indicating different thing along the gameplay.
You only can move the cursor (red cross) through the bottom picture. On this image there is 3 still pictures, a jeep, a motorbike and a river rafting boat. If you move to the upper frame the cursor will return automatically to the 1st jeep.
Press button 1 in any part of the screen and the game will start.
This map is now appearing, this is when you understand the reason of the 4x4 table on the top of the screen.
They are in the gameplay indicated as A1 to A4 (bottom left to bottom right), B1 to B4, C1 to C4 and D1 to D4 in the upper row. This table will indicates you where you are in the map while playing.
You start at A1, look at the Red dots, they are check points. 4 in total.
The Finish line is at D4, this Red dot is a little bigger.
You can finish the game going directly to the finish line, the game will not recognize that you didn't pass through the check points, but at the end your points will be lower. Points are calculated by the distance run and the check points. Each check point gives you 500 extra points.
You only have 2 minutes to reach the Finish line and all the check points.
Your vehicle starts as a jeep but in the screen it is just a little Rec cross.
This is a top view, still picture where only the cross moves.
You don't need to press any button to accelerate or break. Just move the cursor to the side you want to go.
Some difficulties have been added to the cursor movements.
1st as you are running on sand, while moving your vehicle, you will feel you are almost sliding on ice, the car take some time to turn and stop, you will need to control the directional pad to go exactly were you want to go.
Also, rocks will stop you and different kind of floor will slowdown your speed.
As explained earlier, you will use different vehicle depending on where you are running.
You can see here some examples:
There is also the possibility to be transported by helicopter if your car fall in deep water.
In this case a VHF radio appears on the screen. Just touch it and you will go directly from this place to the "H" of helicopter landing site.
All along the game, no music, only this annoying motor noise that change of intensity depending on the your speed.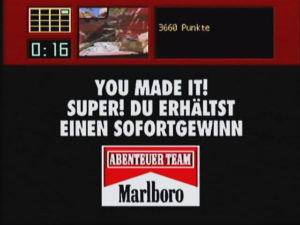 After you reach the Finish point, the game is over and you will know your points.
Incredibly, after that, you will play again in the exactly same map. No mater if you reach all the check points... always the same Marlboro Adventure!
Overall, this is good idea for a company that do not use to enter into this kind of things.
- The game miss music, the motor noise is really annoying right from the beginning, especially because there is absolutely nothing else in background...
- A gamepad is definitely needed and for this kind of vehicle control, a roller controller isn't a bad idea.
- To bad you can't play different maps, and having a little vehicle instead of a Red cross cursor would also be better.
- The concept is good for a 1993 title and for a free title!
Other information:
– 1 player.
– Digital Video Cartridge not required.
– Gamepad recommended.
CD-i Emulator Compatibility:
Not tested yet.
Good Points:
– Great music.
– Full Motion Action Replays.
Bad Points:
– No visualization of vehicles.
– Hard vehicle control.
– Annoying motor sound.
EVALUATION:
Graphics 5/10
Music 5/10
Gameplay 4/10
TOTAL 4,6/10
Find all the Chronicles at http://www.theworldofcdi.com
Contact: omegalfa@theworldofcdi.com
Twitter: @omegalfapt
Facebook: Support Group
Written by omegalfa, © 23/10/2020
Click for thumbs down.
0
Click for thumbs up.
0
Omegalfa The World of CD-i Team